"Oooh, there's a lady in the shower. Quick, pull the curtain back! Damn… it's a fat ghost and she's not happy to be spied on."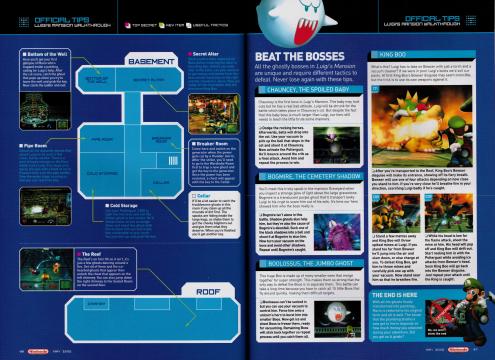 from Official Nintendo Magazine issue 116 (May 2002)
Walkthroughs! Game guides! Player's tips! Maps! Search engine optimisation!
(i'm gonna regret saying that last one)
An "Official Tips" walkthrough to Luigi's Mansion, and for a guide that crams the entire game into eight pages, it could be worse. I can't vouch for how easy it is to follow, though – it took me longer than I care to admit to figure out where you go after the Foyer, and I've completed the game before! I'm sure it makes more sense when you've the game in front of you, though.
Y'know, when I scanned the Pikmin guide that long ago, I'd actually hoped to include more scans of walkthroughs and whatnot in this column, but there's shockingly few that are worthwhile! (i might just be a sucker for maps. if it's got something more than just screenshots it's usually a gimme)