What's New?
[2006 | 2007 part 1 | 2007 part 2 | 2008 | 2009]

21/April/2015
F-Zero gets some hastily thrown-together info and character pages. It's over!
12/April/2015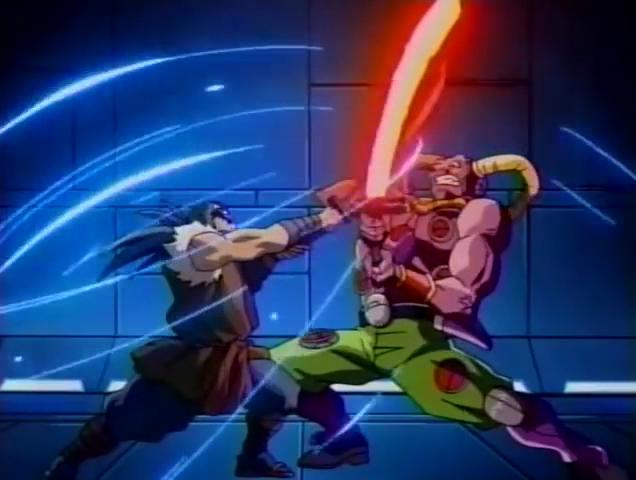 It's the climatic F-Zero duel we've all been waiting for: Samurai Goroh vs. Zoda! Wait, no, the other one.
08/April/2015


We're gearing up for an F-Zero climax! Only three episodes left!
05/April/2015


New foes, new threats, new factoids - all this and more can be found in episodes 41 to 44 of F-Zero: Falcon Densetsu!
01/April/2015


Time for a fluff episode! And two major character deaths, but who cares.
29/March/2015


Revelations upon revelations! Nothing but secrets unveiled in episodes 34 to 37 of Falcon Densetsu!
25/March/2015


These four F-Zero episodes have a humongous bodycount. All children are advised to avert their eyes.
22/March/2015


Episodes 27 through 29 introduce new friends, new menaces, and a mixture of both!
18/March/2015


We're halfway through F-Zero! Get ready for some thrills and spills!
16/March/2015


Episodes 18 to 21 of F-Zero are up. (excuse the lateness, my internet's been slow as molasses lately!)
11/March/2015


So ends the 4Kids dub of F-Zero! It had its merits.
08/March/2015


F-Zero is up to episode 13, and it's introduced the mandatory kid character. Fun's over, folks.
04/March/2015


We've got episodes 6 to 9 of F-Zero, but more importantly, the debut of Super Arrow!!
28/February/2015


F-Zero: The Legend of Falcon begins proper with episodes 2 to 5!
15/February/2015
Just a little teaser for some upcoming coverage - F-Zero: The Legend of Falcon! It's only the first episode for now, but I hope to start it proper before the end of the month.
The pages for G.I. Joe: The Movie, Transformers: The Movie and the Japanese Transformers series have been removed, because they already exist at Rage Quitter 87's Cartoon Coverage!
24/October/2011
I started this way back in early July, but haven't had the energy or motivation to work on it since. I've no idea if I'll go back to it or not, but I figure I might as well throw it up regardless of it getting more coverage or not. Here's the first four episodes of Saber Marionette J!
18/July/2011
RQ87's coverage of the Japanese Transformers series are back up, along with G.I. Joe: The Movie.
15/April/2011
Just what no one was waiting for: Resident Bongo!
04/April/2011
It was a well-hidden secret, but yes, the coverage of the Resident Evil movie is actually about homemade movies posted on the internet about ten years ago. Who would have guessed?
The X-Men coverage is back up. The Japanese Transformers series will take a lot longer to fix all the links, though.
02/April/2011
The adventure continues!
01/April/2011
Things have been reorganised behind the scenes, so excuse the fact that this will no doubt play hell with all hotlinks and leeched images. Rage Quitter 87 (the new and improved Galvatron!) has relocated his content to the Cartoon Coverage at his Corner Shop, except for X-Men and the Japanese Transformers material, which are currently in limbo. They should be back up shortly, at least until they're merged over.
On the bright side, does anyone want to see coverage of the Milla Jovavich Resident Evil movie? Today's your lucky day!
19/November/2010
Hey, is that a new One-Off (Donkey Kong)? I think it is!
07/July/2010
Okay, I really didn't mean to leave this for so long, but intro, character and comic comparison pages are up for Cadillacs And Dinosaurs.
30/May/2010
It's a day late, but it's also like a third longer than the usual pages! And so ends the Cadillacs And Dinosaurs episode coverage.
25/May/2010
Just barely made it for my update-every-four-days deadline! Siege is our penultimate episode.
21/May/2010
Survival is up. You know, I was almost certain I had made more GIFs of dancing dinosaurs in the series, but I've only got two.
17/May/2010
Wild Child, the exciting prequel to Duel is today's episode!
13/May/2010
Mind Over Matter is about drills, but is presumably not cool enough for anyone to make Gurren Lagann jokes out of it.
09/May/2010
Wildfire's a bit of a lacklustre episode to end the series with, I feel. Good thing there's still five left to cover!
02/May/2010
Screw androids, Remembrance has Cap freakin' Tras!
29/April/2010
It Only Comes Out At Night is today's long overdue episode (I wrote the text four days ago and only got the images today!).
25/April/2010
There's a half-naked guy chewed on by a raptor in Pursuit. I'm sure that means something to someone out there.
19/April/2010
I miss the days when we covered episodic shows and could just write about an episode in any order we wanted.
15/April/2010
New episode, and just for giggles, I gave Cadillacs a fancy new section page. Should this place ever get a makeover all cartoon sections might get that kind of treatment.
11/April/2010
Yeah, I don't think anyone was fooled by calling it a One-Off. Cadillacs and Dinosaurs is getting full coverage!
09/April/2010
New One-Off (Cadillacs & Dinosaurs), and there's a new Odds and Ends section for the Super Mario Bros. movie.
27/March/2010
New One-Off (Hulk Hogan's Rock 'n' Wrestling)!
31/January/2010
Where has the Fist of the North Star stuff gone? To my new site, which is here!
14/January/2010
New HnK 2. I'd also like to thank and highlight Hokuto Destiny, an Italian fansite for the series. The webmaster there got into contact with me and will be translating all of the episodes I've written up into Italian for his place! Spreads out that North Star love so I'm fine with it.
12/January/2010
New HnK 2.
10/January/2010
The conclusion to Ken Vs. Han in today's HnK 2.
08/January/2010
A spectacular battle in today's HnK 2!
07/January/2010
Animal cruelty in today's HnK 2.
06/January/2010
New HnK 2.
05/January/2010
New ways for people to die thanks to Hokuto Ryuuken, a style introduced in today's HnK 2.
04/January/2010
Get ready for more Fist of the North Star 2! A new episode is up.
03/January/2010
PARTY TIIIIIIIME


No, there's no update. You need no special occasion to bust out a party time, my friend.