ボンバーマンは、ハドソンが誇るボンバーマンの最初のソフトになります。
爽快感・自分のミスで失敗してしまう苛立ちさ、これが非常にうまく結びついているソフトです!
そして、ボンバーマンが進化したボンバーマンII!
両方とも楽しんでプレイしてください!

Bomberman, the first instalment in Hudson's long-running Bomberman series. This is a tightly-made game, full of exhilaration and frustration when I make foolish mistakes! And it evolved even further in Bomberman II! Please enjoy the two games!
Promotional site. It does include some nostalgic remarks from Takahashi Meijin, mind you.
More of the same.
Music recorded from gameplay.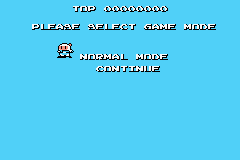 Bomberman II
is stripped entirely of its multi-player modes. There goes any redeeming value!