Hoaxes
This was once a popular past time in the Sonic community, wherein one doctors game screenshots to showcase things that would never happen in the game. Of course, being the old-fashioned Sonic community, the line between "hoax" and "one-panel sprite comic" eventually faded, and now I don't know if anyone even gives a shit about it all nowadays. A pity!
|Sonic | Metal Slug | Other |
---

My first ever hoax that was actually good enough to show to people without trying to pretend it wasn't mine. Big has a less-than-subtle appearance in City Escape.
[2002]

Cream, being the dastardly little devil she is, SNUCK INTO SONIC 2 AND STOLE THE SPOTLIGHT.
One of those "meh" hoaxes. Her sprite is weird, her life icon is great, but I didn't even edit Cheese.
[2002 or 2003]

lol.
Ironically, I made the sloppy P there, but there's an actual not-sloppy P letter in the game.
[April 2003]

Knuckles needs a rubber ring. Hilarity ensues.
One of the few ones with speech bubbles. Rubber ring pinched from the fangame, Sonic: The Search for Knuckles.
[June 2003]

Lime returns to Sonic Advance 2, merrily bouncing through Music Plant.
Now this isn't so bad. The sprite looks good, although the life icon looks terrible. IT HAS NO HAIR, and has a BUTTON NOSE
[June 2003]

SONIC IS SWIMMING OMG
[June 2003]


Ouch.
[July 2003]

Uh huh.
[August 2003]

And a million Sonic x someone else shippers cry in unison.
What's ironic about this is that I was never all that fond of Tenchi Muyo!.
[September 2003]

Leonardo and Raphael beat up Sonic and Shadow.
People actually liked this one a fair bit, despite the fact they look just about nothing like their real selves.
[January 2004]

And the first Sonic vs. Shadow is Sonic Battled!
I quite like this one, with my only nags being the HUD looking odd and unnecessarily large, but not many others said much about it.
[April 2004]

Sonic Triple Trouble in Advance style. Nowhere near as exciting as the concept itself. =(
[April 2004]

Screw Super Sonic, Egg Robo and Robotnik team up with lasers to fight the final boss of Sonic Advance 3.
I really wish I could've improved Egg Robo, both his sprite and life icon, but that's life. Note the fried egg power.
[July 2004]

PLOT TWIST AND A HALF AM I RITE
[July 2004]

===CLICK FOR BIG===
Bomberman sneaks a not-too-subtle appearance into Sonic Adventure DX.
This one took about an hour or two to finish, and it was my first time airbrushing. I think it came out great, despite the blurred grass and badly resized life icon.
[September 2004]

Robotnik fails at MS Paint.
[September 2004]

Robotnik fails at good cook sites.
[September 2004]

The second Sonic vs. Shadow battle from Sonic Adventure 2 is Mega Drived!
For some reason, just about every person who's seen this has found it impressive. I fail to see why. I mean, it took a little bit longer to do than a regular hoax, but it's just one of those "meh" hoaxes for me.
[March 2005]

Celebratory image for Sonic Vegemite in reaching 10,000 hits (I was the 10,000th hit. :]). I screwed up in numbers.
[March 2005]

Green Hill at dawn. Or something.
I wanted this to be a SNES-izing of Sonic 1 (or to be more literal, Super FX 2ing), with the expanded colour palette, effects and such, but it falls very short, with really about the only significant things being the sky and reflection on the water.
[April 2005]

WHAT'S WRONG WITH THIS
Sonic has 65 rings, and a score of 650. This means it's got the Sonic Adventure scoring system, with 10 points for every ring you collect. OMG TIME TRAVEL[/highlight]
[April 2005]

Espio and Knuckles hit Sonic Pocket Adventure with an ALL NEW GAME (question mark)
This was originally inspired by Angnix's Pocket Adventuring of Mystic Cave Zone. I wanted to make a part of the intro stage from Knuckles Chaotix in Pocket Adventure style, and doing the sprites was easy, it was making the area tiles that was difficult, and made me go the easy way with just dumping them in Wing Fortress/Aerobase.
[April 2005]

Segata Sanshiro kicks some ass for being fazed out as advertising mascot after the Sega Saturn. Can't blame him, really.
[April 2005]

Rouge in Sonic & Knuckles? Zounds!
I feel lazy how I just recoloured and resized a Sonic Battle sprite, but then again, I've no idea how well I would have made Rouge in Sonic 3 style, so yeah. Life icon is nice, though.
[April 2005]

===CLICK FOR BIG===
E-102 busts into Halo to kick some blue team ass.
I like this one, but it's not quite as dynamic as the Bomberman one. The airbrushing is a lot less noticeable, but that's really the result of the JPG compression. I really should've enabled shadows (if possible in the PC version), it would've made things a lot nicer looking, and maybe even believable.
Also my only self-insert.
[April 2005]

Robotnik is a mean old git, stealing Knuckles' switch like that. =(
I love the facial expressions I gave them, but I don't think anyone cared.
[April 2005]

Robotnik is a mean old git, destroying the world like that. =(
People have asked why he's doing that, since he'd be killing himself. IMAGINATIONS PEOPLE. It's a clone or something.
[May 2005]

Sonic Advance 2 goes to Red Dwarf. Maybe the game would've been good if it did.
This had a long history. I originally wanted Sonic to be hanging on to Starbug in Wing Fortress in Sonic 2, but difficulty in spriting that changed my idea to it just flying along in Doomsday of Sonic 3. Then I thought of some originality, and had Sonic interact with the crew in a Sonic Advance 3 movie scene. I finally just went lazy and did a title card hoax, with terrible placement on the letters. I like the Skutter icon, though.
[May 2005]

Sonic finds Knuckles' secret passage. Love them facial expressions.
[May 2005]

Taz enters the world of Sonic 1. Eyup.
[May 2005]

Everyone's favourite pastime returns to Sonic Advance 3.
[May 2005]

Shadow turns against Tails and Knuckles in his quest for the DAMN fourth Chaos Emerald. He should have gone for a UZI, as the pistols suck.
[May 2005]

Knuckles is a wimp. Aw.
[May 2005]

What if Sonic 1 had multi-player? Tails wouldn't have been there, so you'd race a recoloured Sonic. =0
I wish I got better colours for the second Sonic, as they're pretty ugly; and I wanted to edit the HUD a bit, like remove the Time or something, but I forgot that, too. Only real problem that isn't my nagging is how they've got a combined total of 54 rings. I don't think that's possible before that area and in that time.
[June 2005]

Playing as Robotnik? In a game that isn't Sonic Adventure 2 or the Drifts? IMPOSSIBLE
[June 2005]

I would say something, but Matt's comment is just so fitting. "Welcome to the English language, Sonic 2!"
[June 2005]

Sonic Pocket Adventuring When Tails Gets Bored. Could've been better, but you know.
[June 2005]

A coincidentally named Chao drowns.
I quite like this one, despite it's simplicity.
[June 2005]

Knuckles faces Egg Robo in Sonic Pocket Adventure.
There were so many Knuckles in Sonic Pocket Adventure hoaxes, and not a lot of them impressed me, so I wanted a truly believable one. I thought I could easily just repeat what I did with Espio in the Chaotix in SPA one, and get Knuckles to imitate his running sprite, but it just failed, and it looks like he's skipping. Egg Robo looks cool, though.
[November 2005]

Does Knuckles ever have any luck?
[August 2006]
I would like to try and provide a sensible reason for this, such as: The series has gone so serious that it's only a matter of time before it resets back to ridiculous goofiness, or maybe comment on Rouge's impact on the series and characters. But I simply thought it'd be funny if Rouge could explode, like E-102's Meltdown power. So there you go.
[November 2006]

And because I thought it was funny, here it is in action.
[November 2006]
---

Sonic enters Metal Slug, where the dreaded SNKglish makes his unique ability incomprehensible.
[January 2004]

Metal Slug: 1st Mission on GBA. I like the new HUD, but my attempt at giving the characters colour fails.
[February 2005]



And 2nd Mission on GBA. Same deal.
[February 2005]

And again. Not only are the colours still bad, but the camera is off-focus.
[March 2005]



It's Fio this time, and I tried lightening it, but it didn't work at making it less sucky.
[March 2005]


What if Metal Slug Advance had the fat status affect? I doubt anyone would care, but it'd be interesting to see how they'd censor the graphic bursting of the characters.
[March 2005]

More of the same.
[March 2005]

So I removed the new HUD and lighting, kept the original HUD, and only expanded the screen and gave colours. Looks pretty silly.
[April 2005]

Part of a hoax I planned to lighten things up over at MS:MIA, where I would say I activated a code that allowed Eri and Marco to be played as. I didn't bother, though. =(
I don't like the green I gave Eri. Looks weird.
[November 2005]
And here's Marco's part of the hoax. Weird jacket colour.
[November 2005]

Inspired by Galvatron's news update at Metal Slug Mission, Sagat from Street Fighter and Phil Mitchell from EastEnders join Marco and Tarma. But instead of that originality, we get a pair of tits with off-screen personalities. Boring.
[May 2006]

Amazing how all I needed to do was add the ON/OFF toggle to the right of the card and suddenly the game looks a whole lot more awesome.
[March 2007]

This took slightly more effort, although I use that term loosely in my "five minutes at the most" kind of way.
[March 2007]
---
Other



One of the Game Boy games coloured to be like SNES games hoaxes, and certainly not the best of them. Ironically, just after I made this, I found out there was a Game Gear version, with better colours and shading than this.
[April 2005]


Super Mario Land, in colour. I tried colouring Mario's sprite, but the results were ugly, so I just used a Donkey Kong GB sprite. It works pretty good.
[May 2005]

Gilius Thunderhead says "YOU CAN COUNT ON MY STEEL". Poor guy has no idea how unfunny and unfitting that is. It's even worse that I gave him the joke.
I really should have edited the machine so it fit in with the rest of the sprites, and gotten better colours.
[June 2005]

Joe returns to his arcade outfit to kick Neo-ZEED ass.
I like the big sprite, but due to my severe lack of skill in drawing realistically, the mugshot looks like an angsty Luke Skywalker with a MySpace account.
[September 2005]

Mega Man Xtreme, recoloured to seem like Mega Man X1. I really like this, and I simply love how Vile was coloured, although I'm not happy with the lighting on the bushes, and I wish I could've made the sky's gradient better.
[March 2006]

Super Mario Bros. Deluxe was pretty crap. As if the original Super Mario Bros. wasn't hard enough for this generation of young Game Boy players, they shrunk the screen down so you can't see shit. So I thought it would've been better if they had it like Super Mario Land, where all the graphics are ludicrous small. And here we are.
[July 2006]

I am a pathetic nerd.
[July 2006]

===CLICK FOR BIG===
The easiest hoax ever! I was reading the 2004 Iron Fist comics where Danny Rand gets all depressed and doesn't want to be a super hero anymore, and without his costume he looks exactly the same as Cody Travers from Final Fight. So I got a panel that looked fitting, cropped it and sent it to Galvatron to punk people on Final Fight Online. Fun times.
[August 2006]

I'd been wanting to do this forever, except with Wario appearing in Bomberman Tournament. I suck at sprites so I just did this, which I think is funnier. Slightly.
[December 2006]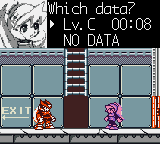 Mega Man Zero, Mega Man Xtreme style! I'm quite pleased with Zero, and the area turned out to be slightly better than I expected, but Ciel's sprite is pretty bleugh. The colour scheme doesn't help it any.
[January 2007]

A Shy Guy? A character from the main Mario series? In Wario's Woods!? Preposterous!
The sprite was originally made for an MFGG sprite contest, and then I cooked this up to see if it fit in. I think it does.
[May 2007]

I think Layer is a cool character. It could be the eye-covering hair or her soothing womanly voice, or it could just be the fact that her robo rack is disproportionably huge on the character select screen, but regardless, she's in Xtreme 2. Took me forever to remember her name, though, so I ended up making letters for all three navigators. Silly me!
[May 2007]