Finishing the Legend of Zelda
Part 3
05 May 2012 ~ 19 July 2012
Segment 1
Picking up the pieces

In the previous leg of my journey, I accidentally skipped the second dungeon and stomped all over the third one instead. As if this wasn't breaking tradition enough, I had a gnawing doubt in my head that I hadn't accomplished something...

"BAAAAAAAABS"

HOLY SHIT A GHOST

"DID YOU EXHAUSTIVELY EXPLORE THAT DUNGEON YOU WERE JUST IN"

That's a good observation, Mr. Ghost! Why I oughta do just that and--

aw maaaaaaaan

I'm really not in the mood, Mr. Ghost. Can't I just forget about this again for another four years?

"BABBS I'M TELLIN' YA IF YOU CLEAR THAT ROOM IT'LL CHANGE YOUR LIFE I SWEAR TO GOD"

Holy smokes, that grim spectre of our own impending mortality was right! There's a dink-ass raft hidden in those catabombs! Thanks, ghost!

"NO SWEAT BUDDY I'LL SEE YA ROUND"

Well, that's a weight off my mind. Mind you, I'm not quite sure what the raft will be used for - it certainly won't be for sailing the high seas, I can tell you that much. No, it'll probably be used to steam vegetables or something equally obtuse. I read your book, game.

Also, I'm still unsure of where to go next. I had some dumb side-quests from the last part left unfinished, and I suppose I could give the first dungeon another sweep...

wait whoa what is this

whoa
WHOOOOAAAAA
Segment 2
Completing the fourth dungeon?
First attempt

I WASN'T READY FOR THIS
Segment 3
Preparing for the fourth dungeon

Well, uh, I wasn't expecting to find that so effortlessly. But I can't go there just yet! I still have important business to attend to!

Like combing this desert for secrets!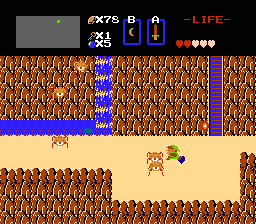 And getting lost on the mountains!

And getting massacred in the desert! Again!

And at this point, I think I was just looking for something to offend me. Those prices, man, jeez.

I did get my paws on the potion lady's letter again, though. Totally worth the trek.
Segment 4
Completing the fourth dungeon
First attempt

Okay, now I believe I'm ready to take on the dungeon. If some nasty monster comes up to threaten me, I can tell them I have a letter that lets me buy potions. What have you got, punk? Moblins are very sensitive to being left out of sweet retail offers.
Also, I suppose I should mention that this is the fourth dungeon? I've a bad feeling I'm only going to stumble across the second dungeon after I've solved everything else in the game.

My first encounter? A room full of bats.
...
Is this part of the dungeon, or have I just stumbled into a private wing used to host exclusive bat parties?

A new foe! These jolly, pudgy ol' demons prance around without a care in the world... though should Link slice them open, BATS WILL EXPEL FROM THEIR INNARDS.

WHY, BATS. WHY.

I don't know why I've got bats on the mind today, but this dungeon is giving me lots to think about. Is this the bats' party crib? I can't imagine any other reason why bats would be left in charge of an unprotected key. Are bats the cheapest workforce Hyrule has to offer? Has Ganon really stretched his resources so thin that he hasn't got the time to wedge a key in a skeleton's ribcage anymore?

I hate to rag on the bats so much. I don't mean to offend them. I love you little guys! But, listen, you really oughta play to your strengths. Guarding keys is not your strong point. You know what your strong point is? Holding bomb-ass bat parties.

... also, it's come to my attention that I can't see shit.
Segment 5
Get a light so I can see some shit

60 Rupees for a single candle? Man alive, son, you know this raises my blood pressure.
Segment 6
Completing the fourth well-lit dungeon
First attempt

That's no candle, that's a freakin' fireball! Ordinarily I'd say the chance to throw a big flaming rock around at will is worth 60 Rupees, but you can only use it once per room. Lame.

Deadlier and deadlier dangers! First darkness, now MOATS. Next thing you know we're going to face off against cat dander.

It's a sad case when The Legend of Zelda pits you against morpheous black blobs with the power of self-duplication, and shapeless heaving masses that swallow you whole... and floating disco balls are what scare me the most. YOU JUST CAN'T TELL WHERE THEY'RE GOING TO TURN NEXT

I could make a crack about disco balls being left in charge of protecting ladders, but I think I've exhausted that angle.

I'm beginning to notice a trend with all these dungeons: their map layouts appear loosely based on... something. The first dungeon was some kind of bird, and the third one was a Manji symbol. This one has an uncanny resemblance to E.T.

I can only assume E.T. on the Atari 2600, in a dire attempt to worsen the market crash long after the fact, has begun to infect the products of its competitors. THEY DIDN'T BURY THE CARTRIDGES DEEP ENOUGH

Oh snap! I thought I blew that punk to smithereens, but Manhandla is back! And he's going to handle some mans!
One bomb wasn't enough for you, was it? Well, why don't I introduce you to--!

urk
Second attempt

This run was not so successful. and I think I know why.
Segment 7
Get some medicine

I had no health reserves! I'm at the fourth dungeon of the game, and I've nothing to save me should I blunder headfirst into a projectile! In a game like this, that's like flying an airplane without a windshield, or some manner of unwieldy simile.

It'll cost darn near every penny just to afford the crappy potion, but I'm confident it'll be useful.

I mean, if potions aren't a substitute for playing skill, i don't know what -- oh. Hello.

We meet again.
Segment 8
Show that Zora who's boss

This went on for a while. I've a sneaking suspicion that this guy is totally invincible.
And that makes me angry.
Segment 9
Completing the fourth dungeon
Third attempt

Manhandla, we meet again! I never did give you that bomb you asked for, did I?

OH JEEZ I DIDN'T MEAN IT I'M SORRY

Nailing the dude with a single bomb must have been a fluke, but it's certainly the desired outcome - knocking off an arm gives him an obscene speed boost. What I've learnt from this is you should approach him cautiously and choose your strikes wisely, or else you'll regret it.

Sweet info, old man. Now lemme past into that...

... locked door.

... and I have no key.

. . .
Segment 10
Getting a goddamned key

KEYS COST HOW MUCH???
Segment 11
Getting enough money to buy a goddamned key

What makes this particularly sneaky is that one of the locked doors took me to a dead end with nothing to gain. If I hadn't wasted that one, I could forego this entire errand and be on my way to the boss by now. And if I hadn't needed that candle and bought that potion, affording it wouldn't be such a hassle.

And grinding for money is more dangerous than you'd think! With only five hearts, Link can really get knocked around by a stray Octorok projectile. And to refill your health, you gotta fight more enemies, or start spending your money again!

In a dire situation like this, there's only one man I can turn to...
Segment 12
Be a cheating bastard in the money making game

Yep.

What're you gonna do about it?
Segment 13
Affording a goddamned key

I'm quite miffed having to throw all this money on one measly key, but I suppose I've no other option. I don't think the kingdom would be too happy if their hero gave up because of one locked door.
Segment 14
Faffing about

While I'm in the neighbourhood, let's heed the old man's advice!

Really? That is the secret of the looping mountain? Jeez, the rubbish I have to pay for. Still, let's give it a shot.

It's probably going to be a sword upgrade or something.

... another dungeon? In a single sesson?
I'M ON A ROLL BABY
Segment 15
Completing the fifth dungeon?

Haha, no chance. Not gonna happen. I abandon enough things as it is, and I'm not dropping the fourth dungeon until I conquer it and all that dwells within.

For starters, jeez, these mummies? They take a heck of a beating. Forget them.

And the Pol's Voices? I don't know what to do to defeat them! I can recite trivia that in the Japanese version you shout into a microphone to make them go away, but when it comes to dispatching them the proper English way, I'm stumped. See, folks, this is what happens when you choose only to absorb the most niché information possible.

I did find out that Digdogger hates certain kinds of sound. You and me both, man, I can't stand Nickelback either. HEYOOOO
(i have never listened to Nickelback)
(what are they even like? are they like Coldplay? i like Coldplay, actually)
(new year's resolution: don't reference shit you don't know about, for crying out loud)

Yeah, I'd probably kill myself after a joke like that, too
(no, let's be serious, Random Hoo Haas totally does not condone offing yourself, especially over crummy-ass jokes like that)
(keep digging that hole, Ragey. maybe you'll find where [topical unfunny comedian] digs up their material)
(heyooooo)
Segment 16
Completing the fourth dungeon
Fifth attempt

So, what is this? Attempt five? I've done so much stupid stuff in the meantime I don't even know. Let's call it attempt five, why not.
I'm drawing ever closer to the boss! I wonder what it'll be this time?

Hoppin' Hyruleans! It's some sort of two-headed pot-bellied dragon! And I don't even know what it's called! Is it a Gleeok? I'll call it a Gleeok, sure.

So, Gleeok's got two heads, right? He waggles 'em back and forth while one of them shoots a projectile at you. The heads are the only weakspot, so you gotta get up close and personal. which, unfortunately, is a trifle difficult when they're constantly vomiting fireballs at you. There doesn't appear to be a pattern for which head the shot will come from.

And you don't wanna get hit by them. They're nasty. And they're so fast! How does it expect me to beat this fool when I have so few hits to spare?

It doesn't, that's what.
Sixth attempt

And it respawns you at the entrance with only three hearts! Oh, this is going to be bad.
Seventh attempt

It's a long dungeon to wade through, and making it there with all three hearts intact is tough enough!

Let alone any of them.
Eighth attempt

What's particularly nasty about this fight is that none of your items can help you. The boomerang bounces off him; throwing a candle in their faces doesn't faze them; and despite guides claiming a well-placed bomb will do serious damage, not one of my bombs made them flinch. And while potions are all fine and merry, it doesn't help in whacking this guy in the face, does it?

... but what about the bow?
Ninth attempt

I never did get my bow to work in the past, and I've a feeling it's because I never bought any arrows for the bloody thing. Well, I think now's the time to rectify that!

WHERE DO I BUY THE ARROWS

I did stumble across this friendly Moblin hiding underneath a statue, who exchanged money for secrecy. I've no idea what I'm hiding, but I'll take your secret to the grave, pal.

Eventually I found arrows going for 80 Rupees. I'm getting mighty sick of wasting all my cash on trivial items, but if they make my life any easier, I'll be glad of them.

THE ARROWS DO FUCKING NOTHING
ARE YOU KIDDING ME

YOU SON OF A FRIGGIN'
ARGH
Seventeenth attempt

HOW DO YOU LIKE HAVING A THORN IN YOUR SIDE EH GLEEOK
HOW DO YOU LIKE IT
DO YOU LIKE IT

GOOD
I'M GLAD YOU DIDN'T
Twenty third attempt

WHY AREN'T MY BOMBS WORKING
Thirty fourth attempt
Forty fifth attempt

Eyeugh.
Fifty first attempt

"I TOLD YOU I'D SEE YA ROUND DIDN'T I"
With all due respect, Mr. Ghost, shut your face.
Segment 17
Take a break
Segment 18
Completing the fourth dungeon
Sixty second attempt

I'm still trying to beat this boss.

It's a tricky one.
Seventy somethingth'd attempt

So, what really throws me about this fight is the fireball situation. They apply to the "Mega Man rule" - until the fireball leaves the screen or hits Link, Gleeok can't shoot another one.

If it misses, that's a small window of opportunity to hit him. Standing to the side means they take longer to reach the screen boundaries, giving you a marginally longer chance, at the expense of having to amble back into stabbing position. Getting hit means he can fire a second shot immediately, scoring another easy hit if you don't react quickly.

If you do manage to whack him enough times, one of the heads pops off and begins flying around, shooting even more fireballs at you.

Did I mention it's invincible?
I don't even know anymore

Now, I don't know about you, but when an annoying boss splits into an even more annoying external component that's fast, flying and even harder to avoid... I think I'd want to dispose of it first.

But no, just keep attacking the remaining head. Fireballs alternate between the two, so it's not any easier to predict. If you chase the floater you'll just be wasting time and sucking up bullets.
Attempt ????

I BEAT THE BOSS
FUCK YOU GLEEOK
IT ONLY TOOK ME TWO GODDAMNED MONTHS
As a pitifully incompetent dude fighting bosses in the wrong order, I can't offer the best of advice! People swore by that bomb trick, but I swore at the bomb trick. None of the items work, and while using sword projectiles seems like a safe tactic, keeping your health maxed out until you reach the boss room is both difficult and expensive, if you're stocking up on potions.
Playing sensibly, you'd likely have a longer health bar by this point, and probably a stronger sword to boot. In my state, there's very little strategy I an offer. Keep moving, steer clear of fireballs, keep an eye on the floating head to learn its pattern, and be persistent. Oh, lordy, be persistent.
Numerical exaggeration aside, this took me heaps and heaps of attempts, and the successful attempt must have been a fluke. I'm not sure what I did right that one time, or what I did wrong all the other times (fireballs hurt, right?), but I'm glad it's over.

And for my efforts, I get another triangle.

This princess better be worth it.
Conclusion
I DON'T WANT TO SPEAK OF THIS BATTLE AGAIN.
That being said, there's a whole load of stuff to look forward to! I know where the next dungeon is, I've stumbled across new locations, I've got a ladder that's bound to open up even more places, and best of all, a Moblin gave me money.
Everything's comin' up BABBS.